Divine flowers
Unique hybrids cultivated by men of the cloth.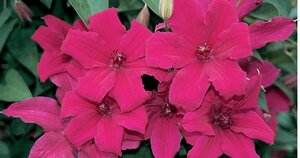 Photos courtesy of Roy Klehm/Song Sparrow Farm and Nursery.
For centuries, clergymen and members of monastic orders have worked with plants. The cycle of the seasons goes hand in hand with liturgical calendars and the slow and steady work of tending ornamental and edible crops aids contemplation.
All over the world individuals in religious vocations continue to breed new varieties and tend gardens, fields, and orchards. As the spring catalogs begin to roll in, home gardeners will be able to choose from an array of plants developed by men of the cloth, including daylilies bred by a Catholic brother from Illinois, clematis hybridized by a Polish Jesuit and lilac varieties developed by a Catholic priest from Ohio.
The Rev. John Fiala served as a parish priest and administrator and taught at John Carroll University in Cleveland. He had a passion for lilacs and flowering crab apple trees, which he bred for decades on his farm, Falconskeape, in Medina, Ohio.
In addition to developing many new lilac and crab apple varieties, he also wrote authoritative books about them. In 1974, he founded the International Lilac Society.
Illinois nurseryman Roy Klehm of Klehm's Song Sparrow Farm and Nursery, who knew Father Fiala, says that the priest had a special interest in developing lilacs tough enough to survive the upper Midwest's harsh weather conditions.
Some of Fr. Fiala's 85 lilac cultivars are still popular, including two double-flowered varieties: the white-flowered Fiala Remembrance and Atheline Wilbur, with pink blossoms.
Fiala's Little Boy Blue, a dwarf lilac that grows three to five feet tall, is also a bestseller, says Mr. Klehm.
---