A new vegetable garden in 8 easy steps
Everything you need to know to start a vegetable garden.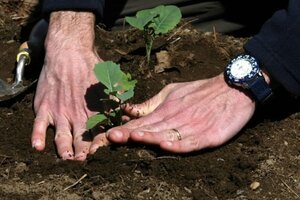 Photos by Larry Crowe/AP/File
So you'd like to follow Michelle Obama's lead and start your own vegetable garden?
With just a little planning, having a kitchen garden can be rewarding and fun, especially for people new to the hobby. Here is a commonsense, eight-step strategy that can help get you growing:
1. Start by involving the entire family and deciding what it is you want to eat. What veggies are your favorites? Which would be easiest to grow?
"You can dream all you want about olives and figs, but if you live in northern Minnesota, it's not going to happen. But that's OK. The reality is you can grow a variety of things, no matter where you live," says Roger Doiron, a home garden advocate involved in the campaign to convert a small patch of the White House's South Lawn into an organic vegetable garden.
The first lady helped break ground for the garden last week. It's believed to be the first cultivated at the White House since Eleanor Roosevelt's Victory Garden during World War II. Produce harvested from the garden will be used for family meals, state dinners, and a Washington soup kitchen.
The garden also will be used to teach children about healthier, homegrown foods at a time when obesity is reaching epidemic proportions in the United States. About one-third of the nation's children and teens are dangerously overweight, government officials say.
---