Sweet, juicy peaches within your reach
Growing peach trees takes commitment, but produces a tasty reward.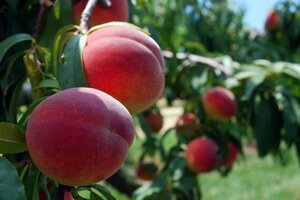 Adrian Higgins/The Washington Post
Frank Gouin examines a peach tree branch laden with red, fuzzy fruit, tests one for ripeness and twists it off. Soon peach juice is running down my chin. This orange-fleshed variety, Ernie's Choice, is meaty, sweet, and the freshest peach I've tasted.
Peaches are as much an iconic fruit of high summer as the tomato; indeed, in 18th-century America it was a far more popular treat. Peach trees, originally from China but brought to the New World by Europeans, became so prolific, both in orchards and in the wild, that even the great botanist John Bartram "assumed the peach was a native tree," writes Peter Hatch in his book "The Fruits and Fruit Trees of Monticello" (University of Virginia Press, 1998).
As with a lot of plants grown to excess, pests and diseases moved in, and by the early 19th century peach farmers in Virginia were, as Hatch notes, battling a deadly virus named peach yellows and two insects, the plum curculio and the peach tree borer. These pests are still around and make the prospect of raising peach trees at home a challenge, even for dedicated gardeners.
---