In Alaska, farmers' markets sprout 'like weeds'
In the past two summers, the number of farmers' markets in Alaska has grown from 16 to 27.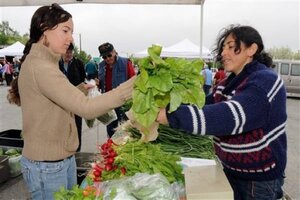 Erik Hill/The Anchorage Daily News/AP
Martha Stramp can't remember exactly when she began visiting Anchorage farmers' markets, but she remembers why. It was the Alaska-grown strawberries.
One day Ms. Stramp was driving around town and saw a sign advertising the ruby-red fruit. She pulled over for a taste test.
From then on, she was hooked.
"There's nothing like it. They taste like strawberries all the way through, not just on the outside," says Stramp.
She and her daughter, Robin, will drive from their south Anchorage home to a farmers' market on the north side of town just to get some, she says.
On Wednesday afternoon, the mom and daughter team walked the farmers market at the Northway Mall, searching for strawberries. They bought them, as well as some Mat-Su vegetables.
The Stamps' passion for locally grown strawberries helps explain why produce stands are sprouting like weeds in Alaska. In the past two summers, the number of farmers' markets in Alaska has burgeoned from 16 to 27, according to the Alaska Division of Agriculture.
Anchorage has seven markets. Just a few years ago, the city had only two.
"There's still room for more, if we had more produce to sell," says Bill Webb, who 17 years ago started the granddaddy market, the Anchorage Downtown Market & Festival, which attracts tens of thousands of tourists on weekends and some locals, too.
That market offers fewer vegetables these days, but has spun off several other markets around Anchorage, including a Wednesday midtown market at the University Center that opened last month.
---