Gardening basics for youngsters
Spark a new year-round hobby right before the school year begins.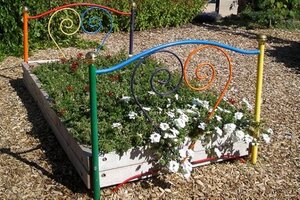 Sandra Leavitt/The Washington Post
One of the best ways to interest children in plants is to start working with them when they are young and curious, and there's no better time to begin than the dog days of August, after summer camp ends and before school starts.
Teaching gardening basics to youngsters is not complicated, and it can be a lot of fun for little ones and their parents. Here are some ways to make the most of the waning days of summer — indoors and out.
Start by giving your children their own outdoor gardening space. It shouldn't be too large to manage but should be big enough for them to do what they do best — play. Give them fast-growing edibles to plant from seed, emphasizing that they can do anything they like with the area. If your youngsters want to try to build a patio or a fishpond there, that's what they should be doing.
In some areas of the country, August is a good month for planting trees and shrubs. It's also time to start a second crop of cool season lettuces, cabbage, broccoli, radishes, garlic, snap peas, endive, spinach, collards, and other greens. Preparing, watering, and weeding fall edible gardens creates pride in children. You will be feeding your family well into fall.
Of course, gardening is a lot more than putting plants into the ground. You'll need to instill lessons on other crucial landscaping skills. Along the way, you may learn a few tricks yourself.
Remember to teach soil preparation to your little ones. Dry soil creeps up when you're least expecting it. As temperatures climb, soil moisture evaporation occurs rapidly. So, incorporate lots of compost to drain and enrich the growing medium, up to one-third compost to two-thirds native soil. If you do not have enough compost on site, look for Leafgro or another good commercial compost.
Soil preparation involves lots of digging and mixing, which will probably be a lot of fun for children.
---