Bhutanese refugees find their calling as urban farmers
Seven thousand miles from their ancestral home, Bhutanese refugees are going back to their roots and tilling the good earth.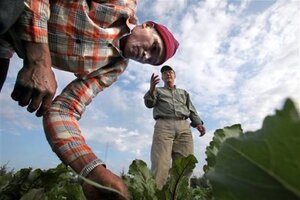 Lisa DeJong/The Plain Dealer/AP
The families from the edge of the Himalayan Mountains arrived in Cleveland last winter as other refugees have — poor, cold, and bewildered. They had once been farmers in the tropical lowlands of Bhutan in southern Asia. Suddenly, they faced an economy based on medicine and advanced manufacturing. A brutal recession ensured there were few jobs to train for.
Their Old World skills could not help them anymore. Or could they?
On a recent morning, Nandu Poudel, and O.K. Basnet, stood behind a table laden with fresh vegetables in the thick of a farmers market on the campus of the Cleveland Clinic.
Men and women in hospital scrubs and lab coats streamed by. Some stopped to buy the sweet tomatoes and the seedless Asian cucumbers offered by the two young men in fez-like Nepalese caps.
Handing over vegetables for cash, Mr. Basnet beamed like an artist selling his work.
"Farming, it's what I do," he explained in labored English, pressing a palm to his chest. "And what my father did. And his father."
The harvest of 2009 is doing more than stocking urban farmers markets in a city with a growing appetite for local agriculture. It's introducing a new class of farmers.
Seven thousand miles from their ancestral home, Bhutanese refugees are tilling the good earth outside of Cleveland and making it bloom. To the astonishment of many, they are using the old ways to gain a fresh start in their new home.
---