How to keep your bulbs safe from deer, rabbits, and other pests
Interplanting pest-resistant bulbs, and using fencing, sprinklers, and barking dogs can all be effective ways to keep spring-flowering bulbs safe from deer and other four-legged pests.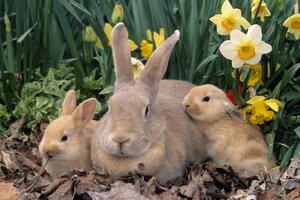 NEWSCOM
Bulbs are perfect, self-contained packages for gardeners. They're equipped with everything necessary to make flowers grow and bloom. Problem is, that makes them a prize for predators, too.
"The perfect lunch box," says Leonard Perry, an extension professor with the University of Vermont. "Put them in the ground this fall and I guarantee you the plant pests will come."
But there are ways to minimize animal damage, and it begins by not underestimating your enemies. Squirrels, chipmunks, rabbits, deer, mice, voles, moles and the many other critters that feast on flower bulbs are crafty. Observant, too.
"Just the fact you're disturbing the earth is a tip-off," Mr. Perry says. "These guys are curious. They'll know something is going on and come to investigate. Once they discover the newly planted bulbs, they'll assume it's food for getting them through winter and there you go. So much for any spring flower displays."
Deer and rabbits like grazing on the tender stems as they surface in early spring. Squirrels, chipmunks, voles and moles, among others, often dine underground. That requires designing a bulb defense in layers.
Here are some proven deterrents. For best results, use them in combination:
---