Michelle Obama's White House garden is a growing success
The first lady's popular garden on the White House lawn attracts attention from international leaders and everyday Americans, who are following her example.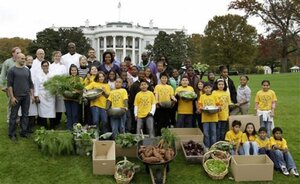 Alex Brandon/AP
To Michelle Obama, her White House garden is more than a plot of land. It's also a soapbox.
The South Lawn garden has given Mrs. Obama a platform to speak out about the country's childhood obesity problem, extol the benefits of eating fresh food, and teach children early to appreciate vegetables.
It also has offered Mrs. Obama another way to open the White House to people who don't normally visit.
The garden now is ready for winter, fitted with protective coverings called "hoop houses," a kind of temporary green house, to help keep various crops — spinach, cauliflower, lettuce, carrots, cabbage, and other greens — growing during the cold months.
In its first year, aides say the garden has ex-"seeded" expectations. It's become so popular that even foreign dignitaries ask Mrs. Obama about it when they meet. Crops have been donated to a neighborhood soup kitchen, and the first lady's green thumb has inspired others to start gardening, too.
Local fifth-graders whose public school has a similar garden helped prepare the plot, plant the crops, and harvest the produce. They even were brought into the White House kitchen to cook some of the food and experience what eating "fresh" tastes like.
During the first lady's recent visit to "Sesame Street" to help Elmo and some kids plant vegetable seeds, Big Bird asked if he had heard correctly that she eats seeds. Not exactly, she replied, but "I do eat what grows from these seeds." She encourages the kids to eat all their vegetables, telling them that if they do, they'll "grow up to be big and strong just like me."
The garden also inspired a culinary showdown on an episode of "Iron Chef America." Filmed partly at the White House, the contest paired White House chef
---