New green wonder: the Hanging Gardens of ... Portland?
A portion of Oregon's federal stimulus money is being used to create the world's largest 'living wall.'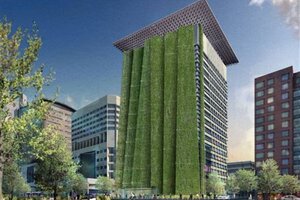 US General Services Administration/AP
They haven't figured out yet how to get the pruning done, but architects and federal officials plan one of the world's most extensive vertical gardens in downtown Portland — what amounts to a series of 250-foot--tall trellises designed to shade the west side of an 18-story office building.
It is not a new idea to use greenery vertically as "living architecture," running plants up the sides of a building to keep it cool. But even in a city with a reputation for rain-fed greenery as well as for green architecture, the wall of the Edith Green-Wendell Wyatt Federal Building would stand out.
The architects' plans call for seven vertical "vegetated fins" to jut at acute angles. The fins would be the metal framework for planters and the greenery sprouting from them.
The west wall is 150 feet long, making the expanse to be shaded about three-quarters the size of a football field, minus the end zones.
The work is part of a $135 million remodeling, with most of the money from federal stimulus funds. It is the largest single stimulus project announced so far in Oregon. The US General Services Administration (GSA) says its goal is to create a "landmark high-performance building."
The green wall concept is familiar to anyone who has planted a deciduous tree or used a vine-covered trellis on the west side of the house: In the summer the leaves provide cooling shade; in the winter, the bare limbs and stems admit comforting light.
---