How to tell if last year's garden seeds are still good
Here's an easy way to test last year's garden seeds to see if they're still good.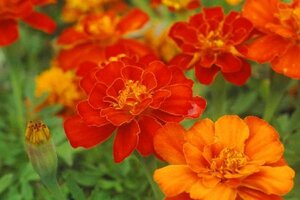 Courtesy of Karan Davis Cutler
It's not every day that I identify with George Washington, but as I retrieved my seed-filled Mason jar I was at one with our first president. In December 1799 he wrote to a friend: "I am particular always in my seeds, because nothing is more to be regretted ... than to sow seed that does not come up...."
You got that right, George.
There's no need for me to worry about the vegetable and flower seeds I've just ordered. Nearly all commercial seeds come in a packet stamped with a minimum "germination number," the percentage of seeds that can be expected to sprout.
But I am concerned about the marigold seeds that I harvested last fall, then stupidly left in our unheated garage.
Unlike many perennial flowers and woody plants, the seeds of annuals like marigolds don't need cold stratification to germinate, especially when stored at well-below-freezing temperatures. The arctic conditions my seeds endured may have doomed any chance they will sprout this spring.
There's an easy way to avoid the calamity of nothing coming up: proofing. Proofing, or testing, is nothing more verifying whether or not seeds will sprout, whether or not they are viable.
How to test your seeds
• Place 10 seeds on half of a damp but not soppy white paper towel, then fold the other half over the seeds.
• Place the towel in an unsealed plastic bag and set it in a warm spot (approximately 75 degrees F; 24 C).
• Check the towel daily to ensure it stays damp – do not allow it to dry out.
• When germination stops, count the number of seeds that have sprouted. If five of the 10 seeds sprout, the germination rate is 50 percent (the number of germinated seeds divided by the number tested), so plant accordingly. If you want 25 plants, sow at least 50 seeds.
• If no seeds spout, it's time to place an order with your favorite seed company. [Click here, here, and here to read Karan's three-part article about her favorite small seed companies.]
---