Detroit leads the way in urban farming
Detroit is ideal for urban farming, with the city beginning to provide a model for the world.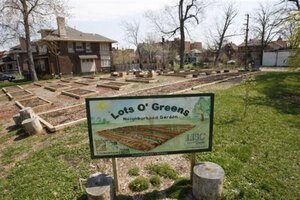 Carlos Osorio/AP
Detroit, which revolutionized manufacturing with its auto assembly lines, could once again be a model for the world as residents transform vacant, often-blighted land into a source of fresh food.
With growing interest in locally raised food, cities including New York, Los Angeles, and Seattle are looking at ways to foster and manage urban agriculture. San Francisco's mayor has proposed creating community gardens on vacant public land citywide.
But no city seems to have as much potential for urban farming as Detroit, where land is cheap, empty lots are plentiful, and residents are desperate for jobs. The number of community gardens has been growing each year, and bigger, commercial agriculture could be coming as city planners draw up land use rules for farming.
Vacant land to be put to good use
"Most other cities aren't quite ready to think about large-scale agriculture," said Michael Score, president of Hantz Farms, which has plans to create the world's largest urban farm in the city. "We have vacant land and that used to be something that we were ashamed of."
---