It's time to order your spring bulbs
Yes, it's still summer, but this is the time of year to think about next spring's bulbs, including tulips and fritillarias, which deer won't bother.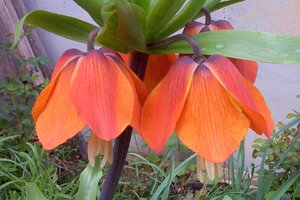 Courtesy of Donna Williamson
It's the middle of a killer heat wave, and I am thinking about planting spring-flowering bulbs.
Tulips are lush and their rich color is glorious in spring, but they are deer bait.
Interesting tulips
Here in Virginia, our spring is not conducive to perennial tulips, so they are usually thought of as annuals. Yet there are a couple that withstand the early-season heat quite well:
Tulipa sylvestris, the woodland tulip, is a little yellow treasure and will come back year after year.
In the close-in "hospital" bed – where I grow little things until they can be put into the landscape without protection – I have a few Fosteriana tulips - 'Flaming Purrisima' is a good one. These are great fun if you love broken colors in tulips (a mosaic pattern of rich colors on the petals); each year they break in a different way, but only a few do it.
Deer don't like the smell
Because deer are a problem in my garden, I also plant giant fritillarias, which are also called crown imperials. They repel deer by smelling like skunks. (This odor is a problem, of course, if they're planted where people will be close-by.)
The yellow variety is very beautiful and cheery – they get about 2-1/2 to three feet tall and are quite majestic looking when planted with smaller, perky daffodils.
---