My first four wildflowers to bloom each year
One of the joys of early spring is watching for the first plants to emerge and bloom in the landscape.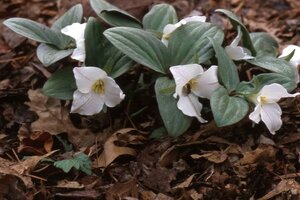 Courtesy of Gene Bush
I perform my walks of expectation around the garden as if I could hurry spring along and make it happen by my frequent looks. Usually my walks begin two to three weeks before the official calendar date for spring to begin. Every year's weather is different, not necessarily tied to a calendar, but more to cycles and events beyond a gardener's control.
However, I remember and know where all my plants are located from last year, so I ignore my head and follow my expectations into the gardens, all bundled up against cold rains and wet snows.
Whatever weather Mother Nature presents each spring, there is at least a sequence of events that I can expect: Some plants emerge with foliage and patiently wait for the time to present their blooms, while others push up blooms between leaves and unfurl almost immediately.
The following four plants are the first to come up, but also bloom, in my Midwest garden in late winter or on the first day of spring.
Dwarf snow trillium
The dwarf snow trillium (Trillium nivale), Zone 3 to 6, is not only the first plant to bloom in my garden, it is consistently the first plant to emerge each spring. [See first photo above.] The common name fits well, for it is not unusual to see snow and sleet while it is in bloom. I have yet to see the weather damage foliage or flower on this diminutive plant. Usually the stems, with three blue-green leaves of heavy substance, reach about 4 to 6 inches in height and are crowned with three-petal white flowers.
---