Two new flowers in my garden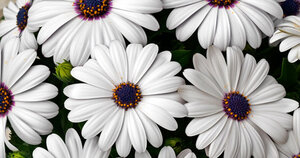 Courtesy of All-America Selections
When applied to plants, the word "new" affects me much the same way red is supposed to attract bulls. If it's new, I can't wait to try it.
Realistically, I know that all new plants can't all be as wonderful as they're supposed to be. (If every rose were as disease-resistant as its hydrizider says, the folks that sell sprays for blackspot and mildew would be out of business!)
But every spring, hope triumphs over common sense, and I try way too many new perennials, annuals, veggies, and shrubs.
Another Wave petunia
I'll confess that I'm not the world's greatest petunia grower. But I've been successful with the Wave series (including Tidal Wave and Easy Wave). So I was pleased to find a new family member this year -- Shock Wave.
If you're a gardener who likes your petunia flowers big, you may not be happy with Shock Wave. The blooms are tiny -- but that's a plus in my book, since small petunias are much less likely to look bedraggled after rain than their bigger brethren.
And a plant that's covered with tiny blossoms is always appealing, I think – especially in pots, hanging baskets, and small flower beds.
---