The Rose Whisperer: Meet the beetles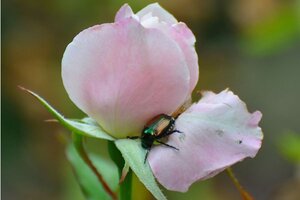 Courtesy of Lynn Hunt
If the invasion hasn't already hit your yard, rest assured that in many parts of the country, it will be starting shortly. Those little whispers of "Tora, Tora, Tora" you may hear while walking through the garden are warnings that adult Japanese beetles (Popillia japonica) are emerging from the ground, ready to attack more than 300 different species of trees and shrubs, ornamental plants, and flowers.
I know because yesterday morning while looking for beetles to photograph, I found only one. Then, four hours later, dozens were feasting on some of their favorite victims, my light-colored roses. Blooms of Pristine, Cottage Rose, and First Kiss won't be the only fatalities because soon they'll also be snacking on hollyhocks, sweet peppers, Japanese maples, and crape myrtles. These eating machines even like poison ivy ivy although they don't control it since the vine grows mostly in shade and beetles prefer to stay in the sun.
Japanese beetles were first discovered in a New Jersey nursery in 1916, possibly having stowed away in a shipment of iris bulbs. By 1930, the beetles had traveled across almost 6,000 square miles in New Jersey, Pennsylvania, and Delaware. Today, the pests are established in 30 states and continue to spread at a rate of five to 10 miles per year. Today, according to Michael Klein, adjunct professor of entomology at Ohio State University, there are only a few states in the lower 48 that do not have beetle problems. Their natural spread of five to 10 miles a year has been aided by the movement of nursery stock.
---