The Transplanted Gardener: When a Butterfly doesn't emerge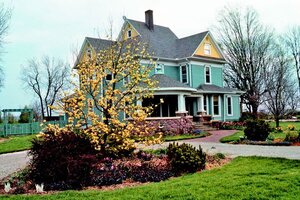 Photos courtesy of Craig Summers Black.
A very late fairly cold snap this spring spelled doom for far too many plants hereabouts – including my favorite tree, the yellow magnolia that the front landscape is built around. (See first photo above.)
Evergreens became everbrowns. Agastaches refused to reappear. And my 12-year-old, 20-foot-tall Magnolia 'Butterflies' – which is guaranteed winter hardy to at least - 20 F. (-29 C); some catalogs vow 30 below (-34 C) – shuffled off its mortal coil. And this cold blast was only in the minus teens.
I thought that maybe the leaves were just blasted;  it wouldn't be the first time its flower buds got frosted. But this time the tree remained skeletal for far too long. Long about June (well, sometimes it takes me awhile) I knew something was definitely wrong.
I tested the twigs and, yup, they snapped right off. Same for the small limbs. And the medium-sized ones. Even the big ones. Snap, snap, snap.
So I took out my pocketknife and scraped off a bit of bark on the trunk up high: Nope. Then down about eye height. Eureka: Green. Life!
Next course of action: the chain saw.
I lopped off all the limbs and took the tree down by half, down to where I knew there was living tissue. (See second photo above.) In effect, what I did was top the poor thing – something you should never ever do, of course. But this was, literally, a matter of life and death. I was hoping to force sprouts and shoots to emerge from the trunk, which I could then edit down to train one as a leader.
No such luck.
Until … until …
I was wildly plucking that pesky tradescantia weed  from inside the horseshoe driveway (a more futile gesture there never was, but what are you going to do?), when I found new magnolia growth hidden under the gold juniper. (See Photo No. 3 at top.)
---