Tommacio, an experiment with tomato raisins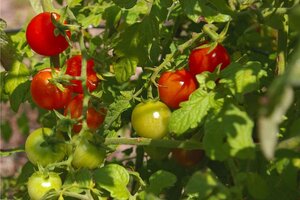 Photos courtesy of Doreen Howard.
The press release first showed up in March touting the virtues of a new tomato raisin. I barely gave it a look, as I receive hundreds of press releases via -mail and snail mail, due to my job as a plant prognosticator.
I test plants a year or two before they reach the market in my job as a garden writer.
Then a scrawny tomato plant showed up in early June.  I added it to the tomato bed, along with the bevy of heirlooms I usually grow. And I finally read the press release.
Tommacio, which will be in stores next spring, is a thick-skinned cherry tomato that dries easily, according to its US. distributor, C. Raker and Sons. The resulting tomato raisin is a sweet gourmet treat, they said, that can be eaten out of hand like other dried fruit.
I had my doubts, but any tomato that produced this summer was a winner, as far as I'm concerned, given the constant rain and chilly temperatures. Actually, this has been the year without summer where I live in the Upper Midwest.
Tommacio produced as promised (see Photo 1 above), even though the heirlooms struggled with blight and lack of heat. I was impressed and eager to make tomato raisins using the instructions in the press release.
The little cherry has a thick skin with large pores, traits perfect for drying, according to the Israeli breeders who spent 12 years creating Tommacio using a wild Peruvian species. No wonder it liked the cold nights this summer!
Leaving tomatoes on the vine to dry is the easiest way, but I was impatient, and the continual rain promised rot rather than air drying.  So I used the alternate instructions on how to dry the little tomatoes in the oven. (See Photo 2 above.)
---