You say potato, I say Yukon Gold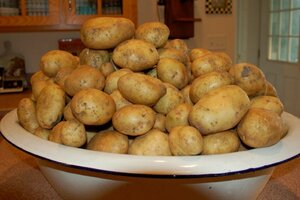 Photo courtesy of Craig Summers Black
I was new to Iowa – and vegetable gardening – and working on a magazine photo shoot. Talk rolled around – as it always does on these shoots – to what we were doing in the garden. And the photographer told me he was spending a lot of time planting potatoes.
Really? I was baffled. Because to me (at that time) it was as if he professed to being swept up in his bottle-cap collection. I couldn't see the point.
And that's because I had spent decades eating store-bought potatoes, which to my mind taste somewhere between wet newsprint and warm lard.
But the photographer convinced me: Just as there is no comparison between the taste of home-grown tomatoes and the red water balloons you buy in the store, there is a world of diff between your spuds and their duds.
He whispered two words, almost conspiratorially: "Yukon Gold." It felt like a moment in "Treasure of Sierra Madre."
The next season I planted many, many of those marble-sized seedling potatoes, and planted them individually, with good to great results. The taste was, as you might have guessed, eye-popping – as though they were already buttered.
I also tried growing those purple potatoes and some fingerlings, but they were utter failures. The Yukons must be bulletproof.
The year after that. I bought a sack of regular old seed potatoes, cut each one up in four to six pieces (making sure each slice had one or two eyes) and popped each chunk into a shallow hole. This time: an even more bounteous crop, and with the same wondrous taste.
And so it went every year since, to the point that this year I reaped 65 pounds of pommes de terre (seems the French have a word for everything).
This season I finally came up with a painless method of washing the mud off each and every tater before bringing the haul inside and down to the cellar:
I lay the newly harvested spuds on the lawn and spray them down with the hose, the nozzle on about medium force. This loosens the dirt, which can then be rubbed off with your thumb in seconds (point the hose at the potato with your other hand as you rub), and the mud disappears, top-dressing the lawn a tad. No muss, no fuss.
---