Growing and celebrating giant pumpkins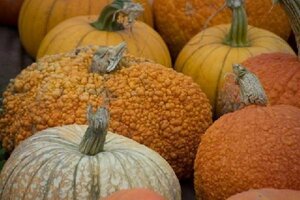 Photo courtesy of Karan Davis Cutler
Market gardeners are warning that Vermont pumpkins are small this year, so the state giant pumpkin record —1,392 pounds — probably won't be broken. Our champion is well short of the pending world record of 1,725 pounds set a week ago, but it's still large enough to house not only Peter the Pumpkin Eater's wife but a couple of their kids.
Think twice as heavy as most lawn tractors. Think 127 pounds lighter than a 1967 VW Beetle.
Now that I have fewer trees and more sun, I may try to grow a colossal Cucurbita next season. Online booksellers are stocked with volumes about growing Goliath pumpkins, and the Web also is loaded with how-to advice.
The experts pretty much agree on the basics: Begin seeds indoors (it takes about 135 days to produce a giant pumpkin); pick a spacious outdoor location that gets full sun and keep the weeds pulled; prepare the soil by digging deeply and adding truckloads of composted manure and other organic matter; protect plants from wind; remove all but one fruit from a plant; prune the vines; and water and fertilize constantly. Constantly.
Serious pumpkin competitors do all this and more, including using outdoor electrical heaters; erecting portable greenhouses and installing shade cloth and irrigation systems; pollinating the flowers by hand; placing fruits on protective carpets and turning them.
They also take daily measurements — pumpkins can gain 30 pounds in 24 hours.
You can do all that, but the real secret is in the seeds. The granddaddy of today's titanic pumpkins, the variety that has won all the prizes since 1979, is 'Atlantic Giant,' the creation of Nova Scotia farmer and amateur breeder Howard Dill.
---