Showing roses for fun and profit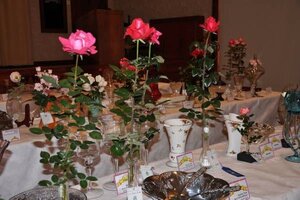 Photo courtesy of Lynn Hunt
I'm often asked how I got interested in growing roses and the truth is, it happened by accident.
I was strolling through a mall in Newport News, Va., a number of years ago and passed several tables filled with all kinds of beautiful roses.
There were big ones and little ones in just about every color. Some had huge blooms; others were as tiny as a pencil eraser. There were elegant hybrid teas with their high spiraling centers and old-fashioned sprays that reminded me of bushes my grandmother had on her Michigan farm.
I'd stumbled upon a rose show!
I wandered over to the head table where all the winning roses were on display. There standing proudly over the rest of the court was the Queen of the Show, a gorgeous red and cream hybrid tea called Double Delight.
That rose, and in fact all the blooms on the awards table, had also been given prizes for their owners to take home. There were silver cups, crystal vases, and all manner of rose related goodies.
It suddenly occurred to me that rose growing itself could be a double delight – you nurture beautiful blooms and win neat stuff, too!
So I joined the Tidewater Rose Society and learned that hybrid tea roses are judged on a scoring system that takes attributes such as form, color, substance, and foliage into consideration.
---