Showy plants, excellent design make a fall garden great
(Read article summary)
A Maine garden is designed to look great in fall, with colorful, showy plants.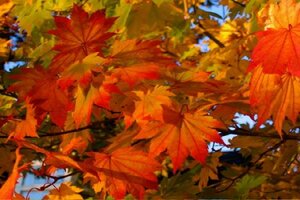 Photo courtesy of Neil Jorgensen.
What makes a fall garden great? Color! Just check out this woodland garden in southern Maine, where bold Matisse-like hues turn tree-lined paths into autumn stand-outs. Subtle shades of green support wild strokes of red, orange, and gold.
Instead of paint, however, my friends Martha Petersen and Neil Jorgensen use small maples and stewartia for their jewel-like fall colors and textural effects.
Specific plants include Japanese maples (Acer palmatum 'Crimson Queen,' 'Scolopendrifolium,' and 'Filigree'), fullmoon maples (A. japonicum 'Vitifolium' and an 'Aconitifolium' seedling), paperbark maple (A. griseum) and stewartia (S. pseudocamellia).
When Neil and Martha, both landscape designers, moved to Maine more than a decade ago, their goal was to create a naturalistic setting that suited their site and showed off their favorite plants.
What success they achieved! I love this garden because in the woodland, they cultivate their small maples as a sweeping understory, not just as individual specimens the way gardeners often do.
First, they took stock of the existing wooded landscape. Next, they pruned or removed some of the old, broken, or unsightly overstory trees, leaving mostly red oaks and black spruces with straight trunks and attractive canopies on site.
Then they planted small maples – both purchased and grown from seed – in the woodland garden, along with rhododendrons and spring-blooming perennials.
---