Wild turkeys in the backyard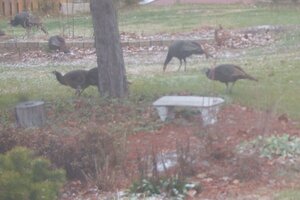 Photo courtesy of Doreen Howard.
In the six years I've lived in the country along the Illinois-Wisconsin border, there have always been a couple of wild turkeys regularly running through my fruit orchard and vegetable garden .
In jest, my husband gifted me with a "Wild Turkey Crossing" sign for Christmas one year to place among the apple trees.
On Friday, turkeys invaded! Not the usual one or two, but 30 of them stormed my acre of paradise.
Gobbling and squawking, they ravaged the flower beds, threw shredded leaf mulch everywhere, and drilled grooves in the icy turf with their sharp beaks.
A bold 40-pound tom charged me as I stood on the screen porch trying to snap pictures with a camera lens that was icing up by the second (as you can tell by the photos, above). Did I mention that is was 29 degrees F., foggy and snowing?
As fast as the flock appeared, they galloped and flew off with the same urgency, to the next feeding ground.  A wild turkey can fly up to 55 m.p.h. and outrun most people.
I've seen a dramatic influx of wild turkeys in my neighborhood since moving here in 2003.
The increase in numbers and size are probably due to the fertile feeding grounds I've provided them and for other wildlife such as possums, deer, raccoons, and fox.
---