Lessons from a Tuscan garden
(Read article summary)
Landscaping lessons in using water from a garden in a tiny hill town in Tuscany.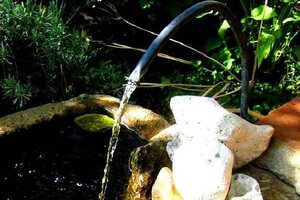 Photo courtesy of Mary-Kate Mackey.
I recently returned from a week in Italy, visiting the Villa Maddalena in the tiny Tuscan hill town of Montisi. The occasion was a birthday celebration for my friend and colleague, Debra Prinzing.
The villa has a south-facing garden with an array of water features. Here's what I learned about how water is handled in this home-style Tuscan garden:
– More than one water feature sounds good. The villa's outdoor area is not large. With patios and narrow walkways, it's arranged more like a city space, than the country garden it is, overlooking an olive-treed valley.
Yet, tucked into one side are both a goldfish pond, where water is pumped up and falls from the mouth of a terra-cotta jar, and, right next to it, another small arching spigot that pours water into an old trough.
The different pitches in sound from those falling waters are tuneful from morning to night.
– Big is not necessarily better. The goldfish pond, a raised pool, measures approximately 10 by 10, and perhaps three feet deep. In size and shape, it echoes the nearby vegetable garden plots. The water and the growing areas are compatible neighbors, without one dominating the other.
– Fish protection can be beautiful. In the fish pool, a few inches below the water's surface, lies a gridded metal table top whose legs rest on the bottom. It's a perfect platform to support water plants such as dwarf papyrus (Cyperus isocladus) in pots, and the eight-inch-square openings give the goldfish protection from predators.
The fish can easily swim down below the metal top, but it would be awfully hard for a wily bird or other critter to balance on the grid work while trying to scoop up dinner. The metal is painted a light color, with no effort to disguise it, and the regularity of the square forms is a pleasing aspect of the pool.
---