A garden contributes to healing
(Read article summary)
An Oregon garden gives solace to patients as they heal.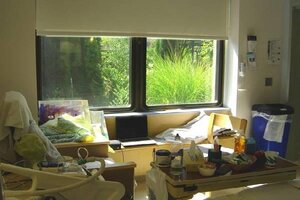 Photo courtesy of Legacy Emanual Hospital Burn Center.
Kathy Hamilton leaned against her walker, as she slowly bent to pick a blueberry with her gauze-wrapped hands in the courtyard healing garden at Legacy Emanuel Hospital Burn Center in Portland, Ore., earlier this year.
Her story of how plants and a peaceful garden hastened her recovery and touched her heart is the first of two I'm sharing with you.
Last spring I interviewed a number of professionals and patients about the effects of plants on the healing process. Some of their stories beg to be told again, in more detail.
A propane stove exploded last summer while Kathy was in the family camper at a vacation site on the Washington coast. She was taken to the burn center immediately for treatment.
Kathy was confined to bed for a couple of days, but could look out of her window and see the garden. Once she was able to walk again, she was in the garden every day – touching, smelling, and feeling the beauty of the plants.
"Every day I pushed myself to get up and make at least a couple of treks to the garden. They even served my lunch out there the last two days I was in the hospital. What joy!" Kathy exclaimed.
"I can't tell you how important that garden was and how much it meant to me. I could stop at any point, sit and watch butterflies and hummingbirds," said the recent US Postal Service retiree from Rosburg, Wash.
---