A family's seed-saving tradition
(Read article summary)
Saving seeds of favorite vegetables has long been a tradition in this family.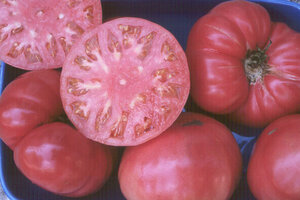 Photo courtesy of Doreen Howard
Christmas was lean for many of us due to the economy. My cousin Russ Wolters gave "white elephants" – chosen with thought and whimsy – as gifts to the 14 members of our family gathered around the tree.
Chip received an open-end wrench that had been buried next to a fence post for decades, and our college girl Alyssa got a faded print of sunflowers in a cracked frame for her dorm room.
Seeds surrounded my treasure, a freeze-dried 17-year cicada. Two years ago, northern Illinois was inundated with billions of noisy, munching cicada, and Russ immortalized one in his freezer. Packed around the insect, in a used cottage cheese tub, were tiny packets of vegetable and flower seeds saved from Russ' 2009 garden.
There was also a cork with two fleas taped to it. The whimsy part, obviously!
Our grandfather, like many of his generation, saved seeds from his gardens and passed them along to his children. He taught them how to save family heirloom varieties, too.
In turn, Russ' mom and my dad, sister, and brother taught us to garden, how to save seeds, and to enjoy the vegetables and flowers that had been brought from Hungary by Grandpa in 1912.
In our family, the most planted heirloom is a potato-leafed indeterminate tomato that looks suspiciously like Brandywine. Jenny, Russ' sister, calls it Uncle Bob's tomato, because she first got the seeds from him. We all plant it and relish the huge, flavorful slices on grilled burgers or as a salad sprinkled with shredded fresh basil and feta cheese and drizzled with wine vinegar and olive oil.
---