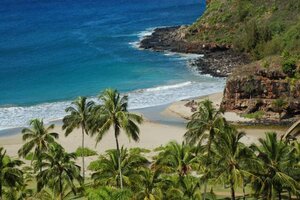 Courtesy of Craig Summers Black
The Transplanted Gardener had already glimpsed Hawaii's Allerton Garden several times before his island-hopping vacation and didn't even know it. You've probably seen it, too.
The Kauai estate's picture-perfect beach [photo above] was a secluded setting in the movie "South Pacific." Its leggy, snakelike banyan trees [first photo at left] were home to dinosaur eggs in "Jurassic Park." We caught a glimpse of it in "Raiders of the Lost Ark." And "Fantasy Island" – you know, "Boss, da plane"? That was the Allerton Garden as well.
To paraphrase another movie: It was not Iowa, but it might have been heaven.
The strongest feature of this once-residential garden is in its construction of garden "rooms" – in this case, imposed settings but with mostly native plantings. The Allerton is a green garden, a quiet one, its drama orderly and understated. Ornament and structure are used sparingly, and so to great effect. [See second photo at left.]
The Allerton is also a garden of stone and water, of stability and movement. [See third photo at left.] And when the trade wind picks up in the bamboo grove, it is a garden of gentle sound as well.
---