Boxwood and summer snowflakes in New Orleans
(Read article summary)
The Beuregard-Keyes House in the New Orleans' French Quarter boasts immaculately tended hedges and a stunning ornamental garden.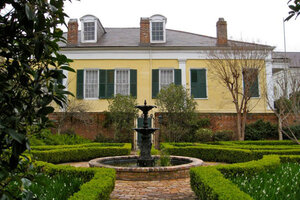 Photo courtesy of Penelope O'Sullivan
For centuries, boxwood (Buxus spp.) has been a key element of many parterres — flat, symmetrical designs that look two-dimensional when seen from above. Parterre design can be as fancy or as simple as you like.
At the Beauregard-Keyes House in New Orleans's French Quarter, the walled parterre is comparatively simple but proportionate to the size of the dwelling.
Tight, low boxwood hedges enclose planting beds packed in early February with summer snowflakes (Leucojum aestivum) on one side and red brick paths on the other. The garden's focal point, located in a brick circle at the center of the parterre, is a cast-iron fountain from which the surrounding beds radiate.
I love how colors play off each other in the BK winter garden. Red brick walls and paths unify the vertical and horizontal planes, making the complementary green boxwood edging stand out. Multiple shades of green create winter color patterns. The blue-green foliage of leucojum contrasts with the boxwood's bright yellow-green new growth, a pairing echoed in the dark green shutters and yellow walls of the house.
You can use this elegantly simple plant combination in most parts of the United States. Leucojum is a hardy bulb in USDA Zones 4 to 9. It prefers moist, well-drained soil and full sun to part shade.
In the Zone 9 climate of New Orleans, leucojum blooms in winter, but elsewhere it blooms in early spring. It multiplies freely and tolerates both summer drought and swampy clay soils.
Leucojum, an old-fashioned bulb of the sort you'd see in your grandma's garden, produces white bells with pea-green dots near the tips of the petals (tepals, actually). The cultivar 'Gravetye Giant' is sturdier than the species, with bigger flowers, and grows 24 inches high.
---
Follow Stories Like This
Get the Monitor stories you care about delivered to your inbox.