Moosewood tree glows in the winter landscape
(Read article summary)
A moosewood tree glows cherry-red in winter, adding vibrant color to an otherwise dreary landscape.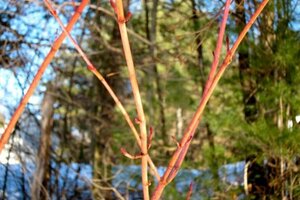 Courtesy of Penelope O'Sullivan
Woody ornamentals pack my yard like canned sardines. We just can't help it, my husband and I. There's always one more plant to try — a speck of open ground where we can see how this or that grows.
The reasons we pick our plants are many. Some are for fruit or flowers, some for leaves, and some for unusual bark or habit.
Which brings me to my topic. I was moseying about the garden when I came upon our little patch of striped-bark maples. Acer pensylvanicum 'Erythrocladum', a naturally occurring variety of moosewood tree, or coral-striped maple, made me catch my breath.
The youngest shoots are bright red in winter. They age to pinkish orange-red with faint white stripes. We've had our little coral-striped maple about six years. It grows near a stand of white pine by the back wall, where it's easy to overlook it for much of the year.
In winter, however, you can't ignore it because it glows.
Coral-striped maple also stands out in fall, when the big, three-lobed, four- to six-inch leaves turn a rich, butter yellow. The trunk has a yellow-orange tint, and summer branches are muted green, much like the species.
My coral-stripe maple is about 7 feet tall and 3 to 4 feet wide, but mature specimens can grow twice as high. Some grow as multistem trees or shrubs with upright branches.
An understory tree, it grows best in part shade, developing an open and irregular habit. Plants in heavier shade get gangly and need pruning when used as garden specimens. Mine's rangy, but it has a cool variegated sucker at the base.
---