A blizzard of snowdrops
(Read article summary)
One of the first flowers of spring, snowdrops arrive in a cheery blizzard of white.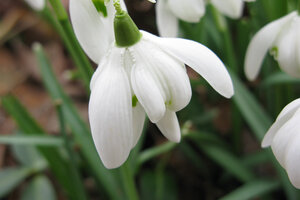 Courtesy of Betty Earl
After a miserable winter, there is nothing as enticing as the first blossom of spring. And in my garden, the first ones to appear are the honey-scented snowdrops, Galanthus nivalis.
In years when we experience a very mild winter, those sweet, tiny dangling milk-white flowers sometimes wrestle their way through the frozen soil and shine in my garden as early as the last week of February. This year, however, we had a snow pack. So I figured my plants were still asleep.
Then last week, the temps soared into the mid-50s, the snow melted, and, to my total amazement, I found clumps of snowdrops in full bloom all over the yard.
Although I have always found them charming, I never really thought much about these tiny bulbs – that is, until last year. Galanthophilia (collecting snowdrops) struck me when I visited a friend's incredible woodland garden in Iowa.
His is a landscape blessed with numerous mature trees that provide the perfect habitat for his vast collections of many rare and wondrous plants. And one of the plants he collects is snowdrops.
While meandering along his neatly mulched pathways, I saw several fine examples of distinctly unusual snowdrops. One look at those virginal, white-tipped spears emerging from the stark earth, and, as much as I hate to admit it, I was hooked on yet another plant.
---