Oxalis: A great plant indoors and out
(Read article summary)
Oxalis – often called shamrock – has beautiful foliage and plenty of dainty blossoms. Plus, it's easy to care for indoors and out.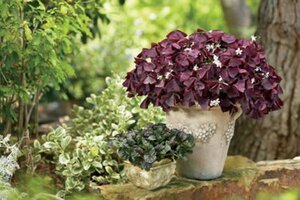 Courtesy of Proven Winners
The middle of March is always about shamrocks, those defining symbols of St. Paddy's Day. Of course, if truth be told, what we here in the US call the shamrock isn't the same plant as the shamrocks of the Emerald Isle.
In Ireland, the shamrock is represented by four different clovers, the two principal ones being the hop clover or lesser trefoil (Trifolium dubium) and the white-flowered clover (Trifolium repens). These three-sided clovers have long been part of Irish folklore and are commonly associated with good luck.
The Americanized version, the four-leafed Oxalis tetraphylla (lucky clover), on the other hand, is the nifty clover look-alike usually found in gift shops, grocery stores, and garden centers during the month of March.
The plant has green leaves with dark burgundy markings and pinkish-red blooms that are displayed profusely in spring and early summer, then intermittently for the remainder of the season. Planted out in containers, the effect is awesome.
Oxalis run the gamut from rampaging weeds – Oxalis corniculatam, O. stricta, and O. pes-caprae – that inhabit American lawns and greenhouses to fabulous, (but not hardy in cold climates) rock-garden plants and edgers.
---