Sweet autumn clematis: a fragrant, fall-blooming charmer of a vine
(Read article summary)
Looking for a charming, fragrant vine that blooms exuberently in fall? Consider sweet autumn clematis.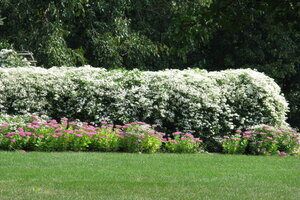 Photo courtesy of Betty Earl
Although I am an avid gardener and plant nerd, I hate hot, humid weather, where I wilt faster than Aquaman at a blazing Arizona pep rally.
But give me the first cool day of autumn and I am in my glory.
Yes, my tomatoes are on their last gasp, my hostas look parched, and most of the summer bloomers are past their grandeur. But handsome "hoodies" – the poisonous but beautiful monkshood (Aconitum) – shower me with vivid blue-flowered spikes when blue is at a premium.
Scattered clumps of naked ladies (Lycoris squamigera) add fresh splashes of pink color throughout the gardens; and nothing wears her garb as jauntily late in the season as the strutting perennial sunflower (Helianthus) showing off her brilliant hair-do of fluffy, golden daisylike flowers.
But as gorgeous as these all are -- and they are indeed gorgeous – nothing, absolutely nothing entices me more than the seductive siren scent of sweet autumn clematis (Clematis terniflora).
An impressive vine
A twining vine that can reach 30 feet in height at times, sweet autumn clematis is one alluring diva that makes a very impressive statement when it blooms in the garden.
---