Autumn apple expedition
(Read article summary)
Autumn is the right time to make an expedition to area orchards to find interesting apple varieties.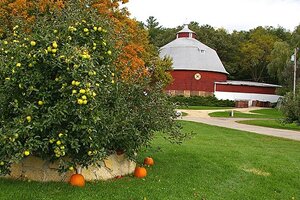 Courtesy of Doreen Howard
It's not enough that I grow eight kinds of apples in my mini-orchard. I need more apples to get me through the winter, and fortunately, I live in the heart of apple country along the Illinois-Wisconsin border.
Late September means the start of fruit stand and apple orchard exploration on Saturdays. And it means I get to sample slices of apple cultivars I've never grown or eaten previously.
I love the thin slices of sharp cheddar, too, the orchards put out as palate-cleansers so that you can truly gauge an apple's flavor.
Besides pecks and bushels of apples to store in the basement for winter munching, I find loads of unique and attention-grabbing edibles and plants at various orchards and cheese stores that dot the rolling hills of rural southwestern Wisconsin.
Last fall at Ten Eyck Apple Farm in Broadhead, Wis., I found orange, green, and silver gourds that looked like long-necked swans, plus an apple variety I'd never tried.
Rootstocks for apples
Apricot apple, also known as Smokehouse, had a stunning array of nuanced flavors underpinning its crunchy acid-sweet perfect balance. Peach, citrus, and chardonnay were some of the essences I could pick out. I'm still looking for a tree of it grafted on dwarf rootstock or a graft of it to put on rootstock myself.
Most of the apple trees on my mini-orchard are on Bud 9 rootstock, which produces a tree that is under eight feet in height. The rootstock also is extremely cold-hardy, so that my trees easily survive the frigid winter.
---