Self-sowing annual flowers
(Read article summary)
Some annual flowers do the work and seed themselves, creating a self-sown garden..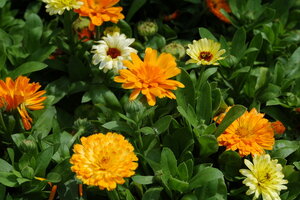 Courtesy of Karan Davis Cutler
Talk about easy — under each of my bird feeders is a stand of sunflowers, sown by chickadees, goldfinches, and their friends. The plants sprang from seeds dropped during the summer.
Better yet, there are a few true annuals -- plants that germinate, flower, set seed, and die in one season -- that you may not have to plant twice. If your location, soil, and weather are congenial, these determined and self-reliant flowers will return, growing from over-wintered seeds that were produced last year.
The most likely candidates are species, rather than hybrid cultivars, or older, open-pollinated varieties. Fancy-pants hybrids are unlikely to self-seed, and those that do rarely produce uniform progeny. Mama and daddy may be redheads, but their offspring are likely to be magenta or mauve.
Reliable self-seeders
In northern New England, where I live, the number of self-sowing annuals is smaller than it would be in warmer regions. My list — some more dependable than others — includes
Borago officinalis, borage
Calendula officinalis, pot marigold
Centaurea cyanus, cornflower/bachelor's buttons
Cleome hasslerana, spider flower
Coreopsis tinctoria, golden coreopsis,
Cosmos bipinnatus, cosmos
Euphorbia marginata, snow-on-the-mountain/ghost weed
Lunaria annua, honesty/moneywort
Malope trifida, annual mallow
Nigella damascena, love-in-a-mist
Papaver rhoeas, Flanders Field poppy/corn poppy
Papaver somniferum, opium poppy
---
Follow Stories Like This
Get the Monitor stories you care about delivered to your inbox.