Hydrangeas are a natural for mountains or shore
(Read article summary)
At their house along Maryland's Eastern Shore, these gardeners find that hydrangeas are a hit in the landscape. So it's natural they want to plant hydrangeas at their new mountain home.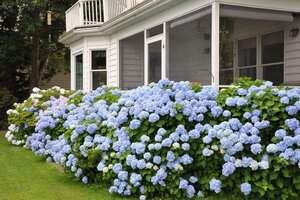 Courtesy of Lynn Hunt
We didn't know it, but apparently boaters going up and down our creek in Maryland have dubbed our place "hydrangea house. " It's funny because I think of it as a rose cottage, but from the water, they see a solid hedge of blue blooms all across the back of our white Cape Cod house from June through August.
We inherited many of these hydrangeas and have planted others during the 15 years we've lived there. They aren't anything special, mostly the good old reliable Nikko Blues. But despite winter winds that whip off the water and frequent summer droughts, they are always spectacular. This year they are five feet high and almost as wide.
Now that we've purchased a place in the mountains of North Carolina, we want to bring some of our favorite plants along. So my husband has been busy learning how to root hydrangeas, and he's just planted his first batch of "babies" today. I imagine I'll be in my dotage when they finally grow big enough to bloom.
Exciting new hydrangeas
Of course there are some amazing new hydrangea varieties available now we could easily purchase and plant here. I have two of the Endless Summer plants and they are very impressive.
Two other new ones are also attracting attention: Invincibelle Spirit and Incrediball, improved offspring of the popular Annabelle.
---