Vegetable harvest just before the first hard frost -- whew!
(Read article summary)
When the first hard frost of fall is predicted, a gardener scurries around and quickly harvests all the vegetables left.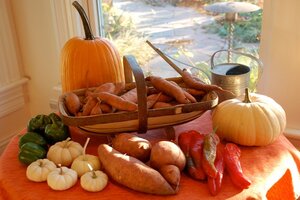 Courtesy of Craig Summers Black
The vegetable garden is down for the count after suffering a devastating one-two punch:
1. Two days of winds gusting up to 55 miles an hour, an effect like a blizzard without snow or a hurricane without an ocean view. This is the same kind of storm that sank the Edmund Fitzgerald back in 1975. (Remember Gordon Lightfoot?)
2. Then our prolonged wonderfully fallish weather took a nasty turn overnight, bottoming out at 28 degrees F. (minus 2 degrees C), our first hard freeze.
But because I keep a watchful eye on the National Weather Service (our office manager didn't call me Weather Boy for nuthin'), I was forewarned and forearmed. I spent all day before the impending doom gathering every little last bit of produce before it was fated to turn into little beige sacks of goodge.
Gather ye spuds while ye may
Up came the last of the sweet potatoes, the last of the beans were snapped, 'maters popped off the vines, peppers pulled, gourds grabbed, squash squeezed…
Well, the vegetable garden had a good run.
Now it has been cut back and an autumn's worth of leaves piled on it and then mowed into little tiny pieces. I tend to mulch rather than till. Easier. Better for the soil.
---