A living wall comes to Portsmouth, N.H.
(Read article summary)
Vertical gardens, or living walls, are becoming more and more popular. Here's one on a Portsmouth, N.H., restaurant.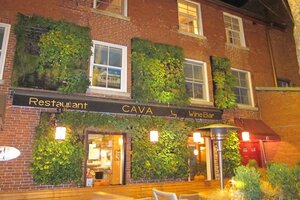 Courtesy of Penelope O'Sullivan
Next to gardens and gardening, I love trying new restaurants in downtown Portsmouth, N.H., a food mecca with tiny streets and passages lined with chic bistros and boutiques. So imagine my delight when a recent night out with friends combined both my passions.
Our restaurant of choice was Cava in Portsmouth's Commercial Alley. In addition to delicious food, Cava has what may be the first vertical garden in northern New England. Vertical gardens, also known as living walls, differ from vine-covered walls by growing in soil-filled erect panels.
I came upon Cava's living wall as I walked down the narrow brick passage reminiscent of old mews. Launched at the end of September, this living wall looks striking and contemporary, yet harmonious with the site.
Panels have built-in irrigation
Five of the six main panels, covering roughly 160 square feet of the two-story facade, are verdant and give the old red-brick building a sensuous texture. One panel shows some dieback, but even that appeals — you can see the structure behind the garden, which is mighty cool.
The Cava garden uses metal GroWall panels with built-in irrigation to hold the plants. Each panel contains several planting cells.
Before attaching the panels to the wall, they were planted and grown horizontally. Eventually the root systems increased enough to secure the plants to the planting cells, thus keeping both plants and soil from spilling out.
---