Solutions for four common water garden problems
(Read article summary)
Complaints from owners of water gardens tend to fall into four categories. Here are some solutions.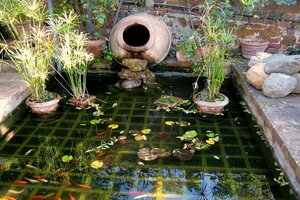 Courtesy of Mary-Kate Mackey
I recently returned from Tuscany, where I was fortunate to experience another visit to the small hill town of Montisi. I had been there a year ago, and coming back to the Villa Maddelena felt like coming home.
I was once again delighted to sit in the garden, listening to the splash of water from two small fountains —sort of a stereo effect, because the deep bass gurgle of water spilling from an inverted terra-cotta jar into the fish pond [first photo above] contrasted perfectly with the higher pitched continuous clatter of water pouring from a curving spout into a small stone sink [second photo above; click on arrow at right bottom].
Actually, the latter's sound alone might have been annoying, as if a bath tub were continually filling up, except for the counterpoint of the deeper fish-pond echoes. But the two together made the perfect chorus.
The singing water accompanied me when I stepped onto my balcony to watch the sun rise over the olive orchards, or sat midday under the fruit trees, or lingered at the garden's edge to catch the last bits of sunset through flat clouds cascading from orange, pink, green, and finally to night-sky blue.
Why not water everywhere?
This experience brings me to the question — why don't all our gardens have water in them?
OK, I admit I know the problems — all the problems. I've been writing about water features for so many years that I've collected a vast litany of hassles regarding water. However, when I hear these horror stories I always think, this unhappy gardener hasn't yet found the perfect water for that garden.
---