Orchids and bromeliads not blooming? Friends have the answer.
(Read article summary)
With a little help from my friends, I learned valuable lessons about getting tropical plants such as orchids and bromeliads to bloom.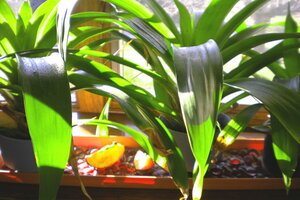 Courtesy of Doreen Howard
Many consider me a garden whiz, assuming I know everything, because I write for magazines, pen books, and blog. I'm not. Tropical plants, for instance, are a problem for me.
I should say that growing tropical plants in my USDA Climate Zone 4b is a problem. I spent a decade on the Texas Gulf Coast, a hot, humid climate, and my courtyard and garden were filled with orchids, bananas, gingers, bougainvillea, bromeliads, and more.
However, orchids and bromeliads won't bloom for me in my current frigid climate, even though the plants are healthy. That's why I ask friends, including casual ones on Facebook. They seem to have the answers.
Leaving orchids out in the cold
Betty Earl, one of the nine bloggers who write here at Diggin' It, mentioned in a conversation we had that she left her orchids outside when the nighttime temperatures cooled into the 40s (4 to 9 C) by mistake. When the plants came indoors, they all produced flower stalks and subsequent blooms, rather than dying, as she thought they would.
Hmmm. I tried the chill technique this year, leaving my orchids on the screened porch, where they had spent the summer, for two weeks when nights cooled into the 40s.
One, an odontoglossum with coppery-orange frilly flowers, initiated a flower stalk immediately. The "Just Add Ice" orchid I bought for $4 at Aldi's and a Doritaenopsis, followed within two weeks. That cross between a Phalaenopsis and Doritis was a birthday gift from Betty.
---