Window boxes in unexpected places
(Read article summary)
The effect of window boxes filled with flowers on the rails of two wooden bridges is magical and unexpected.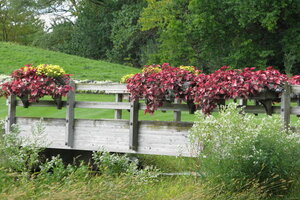 Courtesy of Betty Earl
Sometimes it's the small, unexpected surprises that truly make your day.
For example, seeing a large, shapely saucer magnolia tree (Magnolia x soulangeana) with intensely fragrant, very large, saucer-shaped blossoms -- pinkish-purple outside, white inside -- blooming so heavily that the flowers obscure the branches in early spring.
A front yard entryway with an arbor draped to overflowing in dainty pink roses and fuschia-colored climbing sweet peas.
Or, how about the delightful sight of a cluster of red-streaked golden tulips, echoing the rich, early-season hues of the surrounding blossoms, after a long and bitter winter season?
All, truly lasting impressions.
So it was several weeks back, when driving down a seldom used rural road I came across a couple of small wooden bridges spanning deeper ditches. There, in the middle of nowhere, someone had the wisdom, patience, and dedication to decorate (and maintain) the bridges with rail window boxes full of annuals.
Typically, we think of container – and window-box – gardening as "exterior decorating" with potted plants and flowers; a way of bringing fresh and, yes, fashionable looks to a deck, front entry, porch, patio, walkway, or balcony.
Yet here were a couple of bridges, for all practical purposes in the middle of nowhere, decorated with a simple grouping of plants that packed a floral punch by addingd a splash of color to the otherwise plain green surroundings.
To my eye, the effect was magical. More so, since it was unexpected.
---