Tools that gardeners would love to receive as gifts
(Read article summary)
Over many years of gardening, these tools have stood the test of time. They would make holiday gifts for gardeners.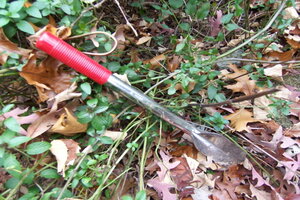 Courtesy of Donna Williamson
Having been a gardener for hire and for myself for many years, I have gone through many tools. Some held up and many did not. Some have a specific and necessary purpose and some are wide-ranging in their usefulness.
Gloves -- So many choices, so many price points. A dear friend gave me a pair of West County gloves and they are wonderful and sturdy. They have built-in extra protection at all those points where gloves usually wear out. And their colors are fantastic! Mine are deep purple. They are solid and tough. Then there are Foxgloves. I didn't buy a pair for a long time because they seemed pricey. They are worth the money. Even with the little gripper buttons on the inside of the hand, you can really feel what you are doing. Again, the gloves are tough and strong with great colors, and easily washable. Neither set of gloves makes your hands feel sweaty.
Trowels -- The single best trowel on the planet is made by Wilcox, has a bright red handle, and is substantial stainless steel. Pry a rock, dig a hole, or use for self-defense. They may lose their sharp point over years of work, but never bend backwards or rust. The one I use is the All-Pro #300 and is about 22 inches long. There are other models. Many retailers sell them, including our Virginia favorite, Brent and Becky's Bulbs.
Vetrap -- Farm stores and equine equipment retailers sell this bandaging tape. It's about four inches wide and comes in a variety of colors. It's made of natural latex and has tiny breathable holes. I have used it to wrap young tree trunks that cats are scratching on -- they don't like the feel of it – and in a year, the tape will lose its grip and loosen from the trunk, not girdling the young tree. I have also wrapped tool handles with it. Again, comes in a variety of colors.
---