Euphoric about a euphorbia
(Read article summary)
Poinsettias may be among the best known euphorbias, but here are some euphorbias that make great outdoor plants.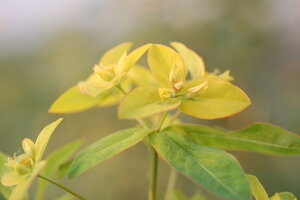 Courtesy of Craig Summers Black
This time of year, everyone can grow euphorbias, even those of us on the Midwest's frozen tundra.
Yes, that bright red poinsettia in your living room is a euphorbia – Euphorbia pulcherrima to be precise.
Colorful euphorbias for the garden
But several euphorbias (also known as spurges) are splendiferous landscape plants. I especially like Great Dixter, Christopher Lloyd's fiery orange selection. I can't grow it, though.
Another stunner: the cheery, cherry Fireglow. I can't grow it either -- or any of the many other intensely hued spurges.
Some that don't work in my garden
What euphorbias that will actually survive here in Iowa are either:
1) Thuggish, like the bluish groundcover E. cyparissias.
2) Undependable, like Chameleon, which disappears and then shows up unannounced in spots all over the garden.
---