Pitcher plants are native, carnivorous, and fun to grow
(Read article summary)
Carnivorous pitcher plants, which are native to the East Coast and some parts of the Midwest, need poor, boggy soil. But if you have the right spot, they're fun to grow.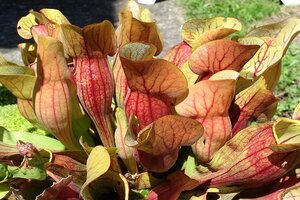 Courtesy of Gardenology.org
Among meat-eating bog plants, no plant gets as much attention as the Venus fly-trap (Dionaea muscipula). Personally, I don't know what all the fuss is about.
Maybe it's the public's mental image of "The Little House of Horrors" Audrey, Jr.'s menacing monster-mouth leaf clamping shut that is permanently seared on our brains. Or maybe it's the fascination with the shrewd engineering marvel of its very specialized trapping structure.
Whatever the reason, I'm not impressed. What piques my interest is another carnivore, our beautiful native pitcher plant, Sarracenia purpurea.
A hardy species, native to boggy areas of the United States' Eastern coast and parts of the Midwest, pitcher plants produce a single red, nodding flower atop a thick, leafless stalk. However, it's the devilishly attractive, flaring pitcher-shaped leaves that are the basis of man's fascination with the plant.
The unique, greenish to reddish upright leaves of these wickedly striking pitcher plants (or pitfall traps, as they are sometimes called) can be tall and spectral, or short and chunky, but they are all intriguing hooded, hollow tubes with a darker-colored reddish filigreed pattern that gives them a strange reptilian-like quality.
In short, they are wildly – some might even say weirdly – beautiful.
---