A garden by the sea
(Read article summary)
Putting the cold winter in Iowa behind on a visit to a warm and lovely California botanical garden.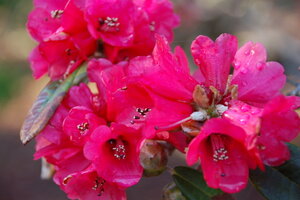 Courtesy of Craig Summers Black
I looked at my handheld at lunchtime, and saw that the temperature had risen slightly. It said it was now all of 1 degree Fahrenheit. One! (Or minus 17 C.) Who has time for this nonsense?
Not me. It may have been a singular digit at my home in rural Iowa, but I was in Mendocino, Calif., at the annual Crab Festival, where I was suffering through unheard-of sunny days and record highs in the upper 60s. Now this is more like it.
Warmth and flowers in bloom
And while my Midwest garden was getting repeatedly pelted by snow, here on the California coast [see third photo above] some fall blooms are still hanging on and the early risers are just beginning to show.
So, with a little downtime between eating crabcakes and slurping down cioppino, I left the amiable Fort Bragg downtown and hied myself off to … a garden. You already saw this coming, didn't you?
And you talk about Transplanted Gardeners: As I entered the Mendocino Coast Botanical Gardens, I showed my membership card for the Brenton Arboretum in rural Dallas Center, Iowa (reciprocity!), and the cashier said, oh, sure, she knew that place. Seems she had spent many a tender season in nearby Adel – which is the town nearest my rural digs. Gardeners do get around.
But enough old home week.
Oceanside rhododendrons and temptation
---