The garden in winter
(Read article summary)
Gardeners are missing a good opportunity when they don't think about winter plants in the landscape. Here are a couple of good choices for the South.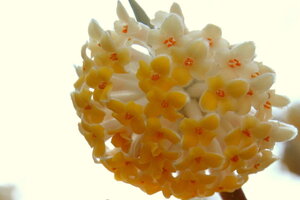 Courtesy of Helen Yoest
Winter is not my season. It's not so much the cold weather, as it is the length of day; and I use the word length lightly. The days of January are just too short for my liking.
I prefer to be a big ole bear in January and hibernate. While sleeping, time inches along just enough to make February respectable. Now with February here, I'm ready to take a peek at what's going on outside.
In Zone 7b Raleigh, N.C., where I live, we don't often have the benefit of a snow lying softly on the ground -- protecting, insulating, and dazzling us with a photo op at every turn. We must make do with other ways to entertain ourselves. Our photo ops are in the form of flowers, scent, and texture.
I wish I could give you a nickel for every time an opportunity was missed to make the garden more appealing. Not by me, of course, but by others who ante up for spring, summer, and sometimes fall gardening, but fall short during winter.
A couple of decades ago, I decided to make it my personal mission to garden specifically for winter.
So come along with me while I give you a little tour of a garden I call Helen's Haven.
Paperbush -- Edgeworthia chrysantha 'Winter Gold'
Let's begin out the back door with Edgeworthia chrysantha 'Winter Gold'. This beauty is located just off the covered porch so that when her flowers open, the scent wafts by, reminding me to sit and enjoy. With my extremities wrapped and hands holding a hot cup of cocoa, I seize the moment.
The flower heads begin to form in fall when the leaves are still on the tree. She takes her sweet ole time opening, though, but that's OK. I like the way the flower heads hang there in anticipation of opening.
Slowly, starting in February, the flowers will begin to open with that sweet scent ready to make me swoon till spring.
---