Amaryllis: The bulb's source matters
(Read article summary)
Did your amaryllis bulb originate in South Africa, the Netherlands, or Israel? Its source may make a difference in when it blooms.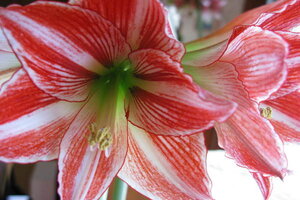 Courtesy of Betty Earl
Just the other day, at my local garden club meeting, a member mentioned how disappointed she was with her amaryllis (Hippeastrum) bulbs.
Now I am nuts about amaryllis, grow them by the dozen. So I was intrigued as to the problem.
They are, after all, audacious, tropical-looking flowers for those seeking a little easy-to-love indoor cheer in the dreary days of winter. The fact that they are also one of the easiest of bulbs for forcing can't be over-looked, either.
With their large, exquisitely formed single or double flowers in bold shades of red, bright pink, orange or bi-color and blossoms in subdued shades of pink, rose, salmon and white that are flushed, flamed, or veined in bold coloration sitting high atop thick spring- green stems, these flowers are nothing short of sophistication and class.
So, what was the problem?
My club member friend had purchased six 'Temptation' bulbs, potted them in early November, almost eight weeks before Christmas, with the intent of using the blooming plants as her dining room decorations over the holidays.
But, come Christmas, the bulbs sat there with just a smidgen of bud tips barely sticking out – with none of the highly anticipated flowers.
"Where did I go wrong?" she wanted to know.
Unfortunately, her choice of cultivar was her undoing.
Dutch bulbs
Most amaryllis bulbs sold to the consumer are greater than eight inches (20 cm) in circumference and are either Dutch, South African, or Israeli-grown. Typically, they sport two to six flowers per stalk, with the average being four. Plant heights range from 18 to 36 inches, depending on the cultivar, the country in which the bulb was produced, and the conditions in which you grow it at home.
---