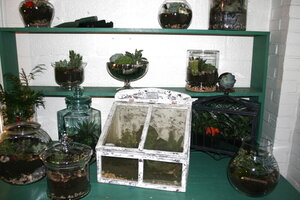 Courtesy of Helen Yoest
For most of us, spring can't come early enough. A few faux springlike days, and we just want to get out there and plant. But we all know that this is a no-no. More cold is yet to come. But you can begin digging in the dirt anytime by making a terrarium.
More specifically, a "new" terrarium, as they are so nicely illustrated in Tovah Martin's book, "The New Terrarium: Creating Beautiful Displays for Plants and Nature." .
Tovah's book gives plenty of ideas to get you digging. The new terrarium concept has been expanded to basically include any glass vessel, opened or closed.
As this year's program chair for my "girlfriend" garden club in Raleigh, N.C., the Bloomsbury Garden Club, I slated programs for each month we meet. Tovah's book was inspiration for one of our programs.
Our garden club is made up of 18 friends who plan to stay together for a long time. As Carmen Honeycutt, of Carmen Honeycutt Interior Design, puts it: " We are friends with whom we are raising our children and will raise our grandchildren, and we all share the love of gardening."
The garden club is about 15 years old; I'm one of the newbies to the group, having only been a member for eight years.
For our program on terrariums, we asked each member to bring her own container, and the club provided the rest of what was needed -- gravel, activated carbon, potting soil, and plants.
I also picked up a few accents to add to the designs, such as birds, Wellies, bunnies, birdhouses, and the like.
---