Big ideas for small, money-saving water features
(Read article summary)
Here are three examples of not-so-big water features that can make a big impact in your yard but carry a small price tag.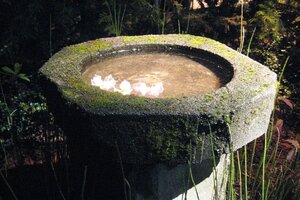 Courtesy of Mary-Kate Mackey
A few weeks ago, on Facebook, I got a response about my Diggin' It posts, saying, essentially, that the fabulous water features I often write about are way too expensive for most gardeners. That's too true in many cases, including my own garden, which does not have an enormous waterfall or a swimming pond — much as I admire those things.
But just because we haven't got the big bucks doesn't mean we can't or shouldn't have water at all.
The way to cut costs
Designing a water garden or water feature is the same as designing a house: Lower the square footage, and you lower the cost. Bring the house size way down, like the guiding principle in Sarah Sasanka's Not So Big House, and you have money left for the small crafty details that make a home memorable.
The same is true in the garden. With water, small to the point of miniature can be delightful. The bonus for downsizing is cash for thoughtful plantings and the perfect accessories to finish your watery vignette.
And speaking of vignettes — flower and garden shows are all about them. Because we're in the middle of the show season, here are some big ideas for small water features. I saw these three at the Yard, Garden and Patio Show in Portland, Ore.
Small, simple, and satisfying
---