Growing redbud trees and forcing redbud branches into bloom
(Read article summary)
Redbud trees are a colorful sign of spring. And they're easy to grow. Here's how to to force their branches into bloom indoors weeks before they flower outside.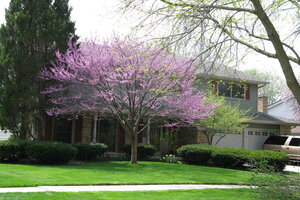 Courtesy of Betty Earl
Thanks to the help of some unknown critter, this Midwest gardener has beautiful redbud branches to force into bloom to add color and fragrance to her home.
Now I fancy myself to be a pretty decent gardener. Sure, I have some losses here and there. But then, who doesn't? Let's face it. Plants die.
They die for various reasons – which may or may not be within our control. So, by itself, the lack of success in growing a certain plant isn't an earth-shattering event ... unless you want one so badly that you could almost taste it!
And the one plant that I have lusted after since we first purchased our home, but the one plant that I have never – ever – under any circumstances, been able to grow, no matter how hard I tried, how many times, or how many different parts of my garden I planted it in, is the beautiful Eastern redbud (Cercis canadensis).
It's a tree every piece of literature rates as "easy to grow!" Here, my thumb is blacker than the blackest ace of spades.
That is, until now. But then, if truth be told, I wasn't the gardener who, four years ago, planted this dapper dude in the wrong spot, way too close to the deck.
It was a bird …or maybe a squirrel. Whoever, or whatever it was, I thank it from the bottom of my heart.
But since it's too close to the deck, impeding the easy flow of mowing grass, will I move it? Not on your life! Let my husband deal with the hardships of mowing; I – finally – have a healthy, thriving redbud.
Oh, I thought about relocating it initially when I first came upon the minuscule twig in the shade of the old green ash tree. But since redbuds form taproots and resent transplanting – and my success rate with this tree has been rather, well, abysmal – why challenge fate? I'll leave well enough alone.
The beautiful and 'easy to grow' redbud
---