Native plants help birds and small wildlife
(Read article summary)
There are many reasons to grow plants native to where we live. One is that they help feed, sustain, and shelter birds and beneficial insects.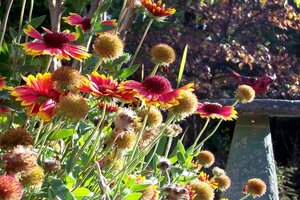 Courtesy of Nina Koziol
Our small subdivision is surrounded by about 2,000 acres of forest preserve. We're not quite in the city and not quite in nearby busy suburbs. There's still a working farm with cows and horses down the gravel road, an unusual feature since we're about 40 miles from Chicago's lakefront. An occasional cow gets loose and meanders through the oak, maple, and hickory woods.
These woods are also filled with large stands of non-native honeysuckle, buckthorn, barberry, garlic mustard, and other plants.
Some of these plants hitched a ride with settlers, but many were purchased by homeowners as decorative plants for their gardens.
And some plants, like buckthorn, were sold in northeastern Illinois by John Kennicott's Nursery and others in the 1850s as an alternative to fencing since buckthorn produces dense thorny branches.
None of these plants were growing in this area a few hundred years ago. There were woods, prairies, and wetlands back then, soon followed by farms and housing developments. Non-native plants compete for space, light, and nutrients with native trees, shrubs, and wildflowers.
Native plants for native insects
Along our road is an 80-foot by 12-foot border filled with perennials, annuals, and shrubs. Although Monarda 'Cambridge Scarlet' – a great nectar plant for butterflies and sphinx moths — brightens the border in summer with its brilliant red flowers, I was surprised one day to see swallowtails head for the native monarda (Monarda fistulosa) that grows across the road at the forest's edge.
---