Would thick-skinned tomatoes deter stink bugs?
(Read article summary)
Residents of the mid-Atlantic states would do almost anything to be rid of stink bugs in the house and in the garden, where they damage tomatoes and other veggies and fruits.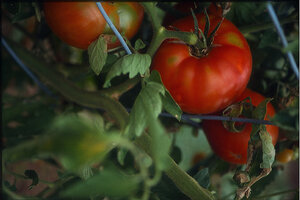 Courtesy of Donna Williamson
I've been thinking a lot about stink bugs, based on my experience last summer with the damage they caused. .[See my previous post, Under assault by stink bugs.]
I thought I had a good idea. Maybe we can find tomatoes with thick skins that the stink bugs will not want to bother with. So I contacted a couple of good seed houses and asked them for recommendations.
The one response I got, from Baker Creek Seeds, was interesting. "We do carry some red varieties that were shipping varieties in the past and these seem to have thicker skins. They are: Seattle Best of All, Bonnie Best and Rei Dos Temporoes. (from Portugal). Unfortunately, most heirlooms are bred for the thinner skin. We don't carry it this year, but Porter was also an old variety from Texas that was used for shipping for canning companies."
Planning to experiment
As I was thinking about this, I spoke to another gardener, and she reminded me that they go after apples late in the season and they have thicker skins than tomatoes. Yet I seem to remember that the tiny cherry tomatoes with thick skins from Mexico that I grew last year had no damage. Maybe the stinkers didn't see them.
---